[UNITED STATES ONLY]
Klarna & AfterPay are two payment processing institutions that allow you to buy now and pay later.
Both allow you to spread your payment bi-weekly over a period of 6 weeks.
You will be billed the first quarter payment after purchasing and every two weeks thereafter until the 6th week.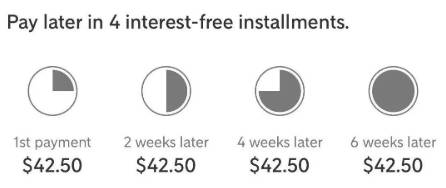 HOW EXACTLY DO BOTH WORK?
AfterPay & Klarna allow you to split purchases between $35 and $1000 into 4 equal payments automatically charged to your debit or credit card every 2 weeks.
There is no interest, no fees, and no catch. It's that easy.
DO I HAVE TO PAY A FEE FOR USING AFTERPAY & Klarna?
Mark Ryden Backpack pays a fee for using AfterPay & Klarna. There are no added costs or fees for you when using this payment option.
IS THERE A LATE FEE FOR USING AFTERPAY & KLARNA?
For AfterPay, a late fee is charged when an installment for an order is not paid after the applicable grace period (usually 10 days unless otherwise noted on your payment schedule).
AfterPay will only ever charge one late fee per installment and the total amount of late fees charged on an order will never exceed 25% of your initial order value.
Klarna doesn't charge any late fees with 4 interest-free installments.
As soon as you miss a payment, both AfterPay & Klarna will immediately stop you from making any further purchases using their services. This is because of their commitment to the high standards they set for responsible spending.
To keep you in the loop, both AfterPay & Klarna will send you an email notification when a payment draws near.
HOW DO I SIGN UP FOR AFTERPAY?
You don't need to register prior to making your first Afterpay purchase.
If it's your first time using Afterpay, you will provide payment details as usual to complete your purchase and select "Installments By AfterPay" at checkout.
Once your first order is approved, your Afterpay account is created.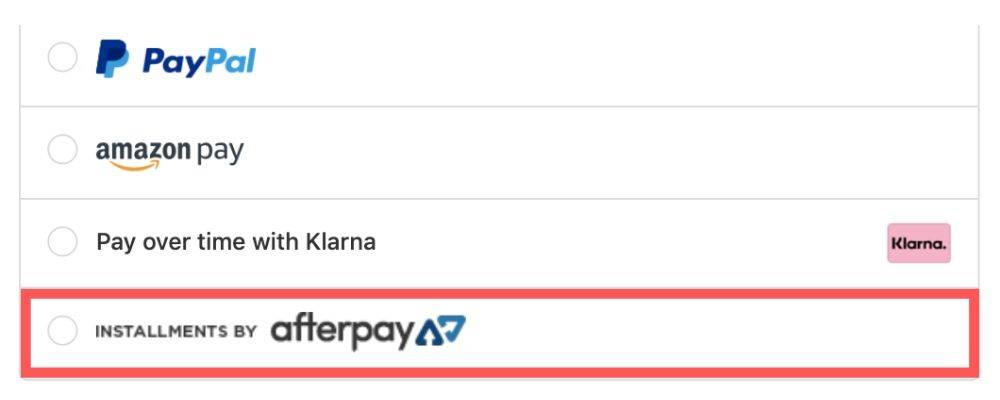 HOW DO I SIGN UP FOR KLARNA?
There's no sign up required for Klarna! If your order is eligible to pay using Klarna, the option will be presented at checkout.
Simply choose 4 interest-free installments as your payment method at checkout and enter your credit or debit card information.
This is the card Klarna will use for your scheduled automatic payments.